Riga, Latvia
Our passionate team is committed to providing excellent customer service and technical support to customers, vendors and fellow employees throughout Europe, the Middle East and Africa (EMEA).
Consisting of more than 140 enthusiastic and talented team members, our Business Service Center is responsible for providing financial, IT, purchasing and customer service support for 21 locations in EMEA. We are committed to maintaining a safe, fulfilling work environment based on our core values of respect, integrity, excellence and responsibility.
We celebrated the official opening of our facility on October 14, 2014. Members of our executive committee as well as distinguished members of the Latvian government and the Latvian Investment Agency (LIAA) attended the inauguration ceremony.
---
Vida na Cabot

Lattelecom Marathon
In May 2018, nearly half of our employees participated in the 28th annual Lattelecom Riga Marathon, completing a variety of distances ranging from 6 to 42 kilometers.

SUMMER SPORTS GAMES
We support an active and healthy lifestyle for all of our employees and their families. During the summer, we get together for an annual day of fun and challenging sports activities. In 2016, the theme of the event was "Anchors Ahoy," and employees were invited to demonstrate their creativity through outfits, team names and slogans related to sailing, sea creatures and ocean adventures.

Global Safety Day
We celebrate our team's safety accomplishments on an annual basis to learn how we can continue to work together to improve our safety performance. We are committed to excellence in safety, health and the environment for the protection of our employees, contractors, visitors and neighbors.
---
Alcance na comunidade e responsabilidade social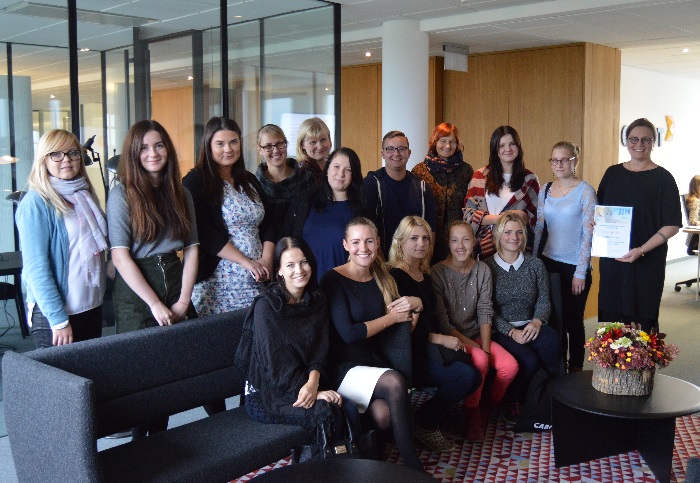 Donation to SOS Youth House
We recently donated €25,000 to young people living in the SOS Youth House, a part of the non-profit organization SOS bērnu ciemati Latvijā. 
The funds, provided by a grant from the Cabot Corporation Foundation, will be used to support the children's educational needs. Beginning in 2016, we entered into a cooperation with this organization, which provides long-term family-based care for disadvantaged youth. Throughout the year, we hosted the children for a variety of fun activities, including bowling, table games and a BBQ party.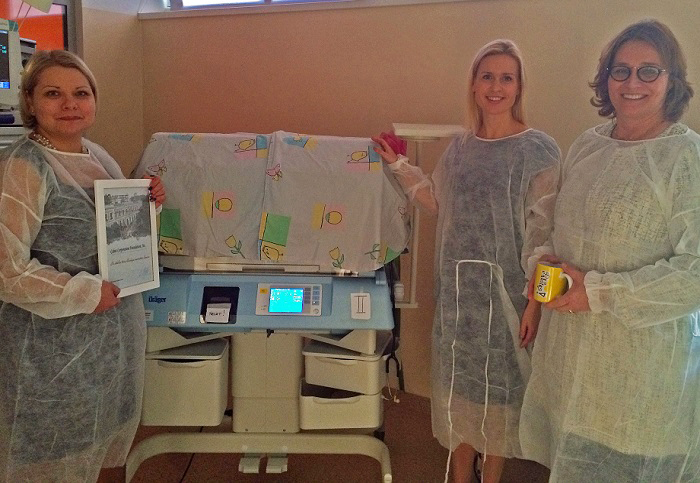 Supporting a local children's hospital
In 2015, we donated a state-of-the-art incubator to the Children's Clinical University Hospital to help it meet the medical needs of more than 350 babies born prematurely in Latvia every year.
Additionally, in 2014 we collected funds to provide three medical chairs to premature children in the hospital. These chairs simulate the child's position before birth and promote fast and healthy development. During the holiday season, we also put together personalized Christmas gifts for children in the surgical division of the hospital.
"Supporting the hospital was an initiative started by our employees and we chose to support what was closest to our hearts," said Heather Ellis, managing director. "We wanted to make a more substantial long-term investment in the hospital's ability to treat its smallest patients. After consulting with the hospital, it was clear there was a pressing need for a new incubator."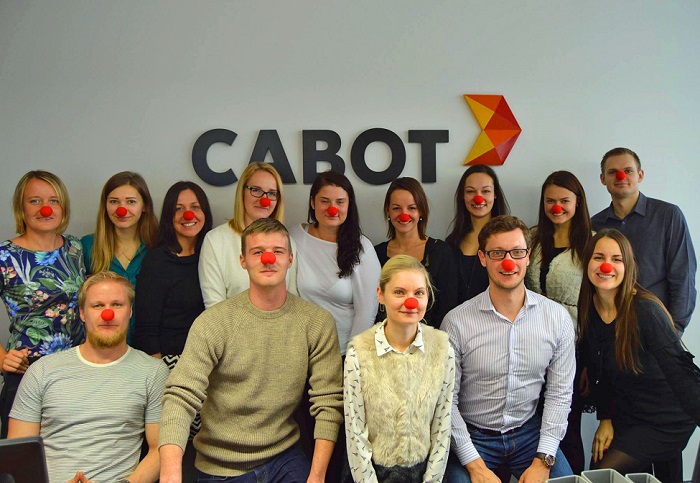 DONATING TO BRING Joy to Children
We are proud to provide support to Dr. Klauns, a charitable organization that partners with medical staff to bring joy to children receiving treatment in hospitals throughout Latvia.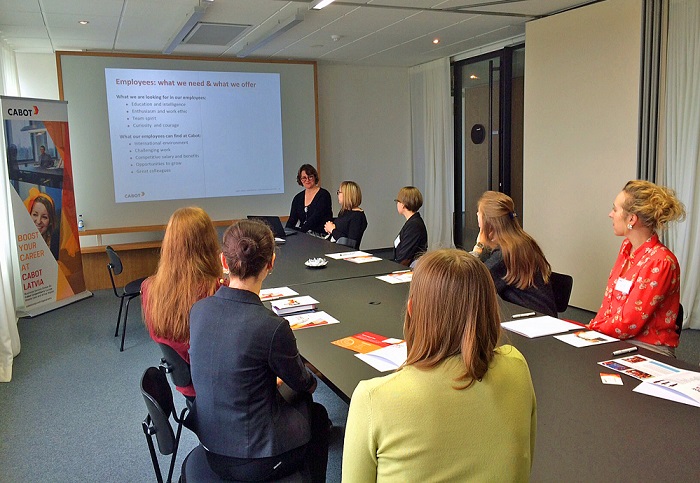 hosting a Community Open Door Day
In April 2017, we participated in "Company Open Door Days," an initiative that enables students and other members of the community to visit local offices and explore potential career opportunities.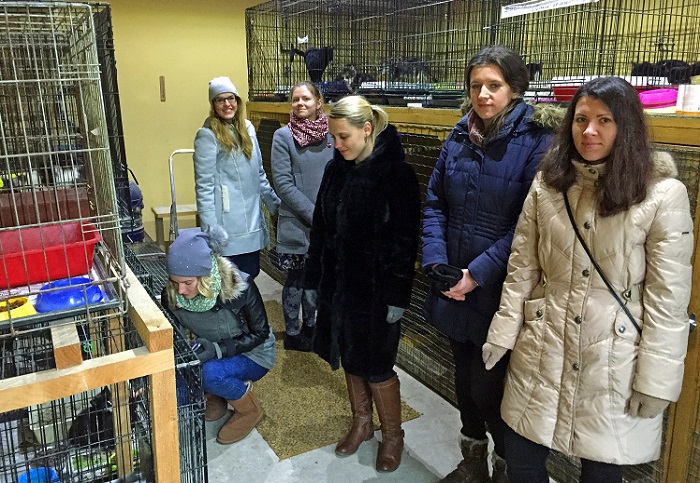 Supporting a Local Animal Shelter
Throughout the year we collect pet food, blankets and toys to donate to the Slokas Animal Shelter. Several of our employees also volunteer to walk the dogs and assist the shelter staff.
In March 2018, we exhibited at the Riga Technical University Career Day, the largest career event in Latvia. We enjoyed engaging with many outstanding students who are considering career opportunities with us.
Join the Riga Team
---
Prêmios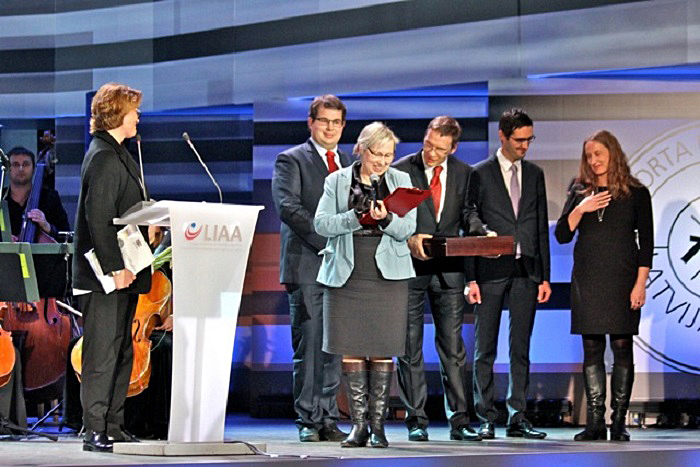 "Best New Workplace" in Latvia
We were honored by the Latvian Ministry of Economics in 2014 as a leading exporter and one of the country's most innovative companies.
The "Best New Workplace" award was presented at Latvia's Export and Innovation Awards, an annual event honoring Latvian companies that demonstrate innovation, competitive strengths in local and foreign markets, and growth in the quality and quantity of exports.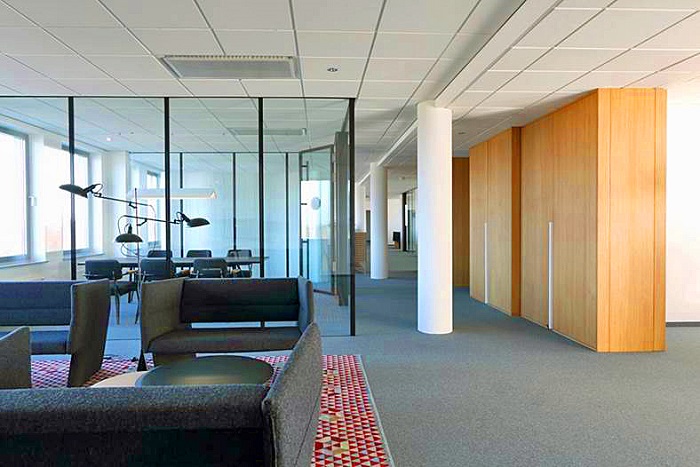 Latvian Architecture Award Nomination
Due to its modern and stylish architecture, our office was nominated for the 2014 Latvian Architecture Awards and was a finalist for the top design in Latvia.
---
---